GopherCon 2023: The Ultimate Review - We International Now!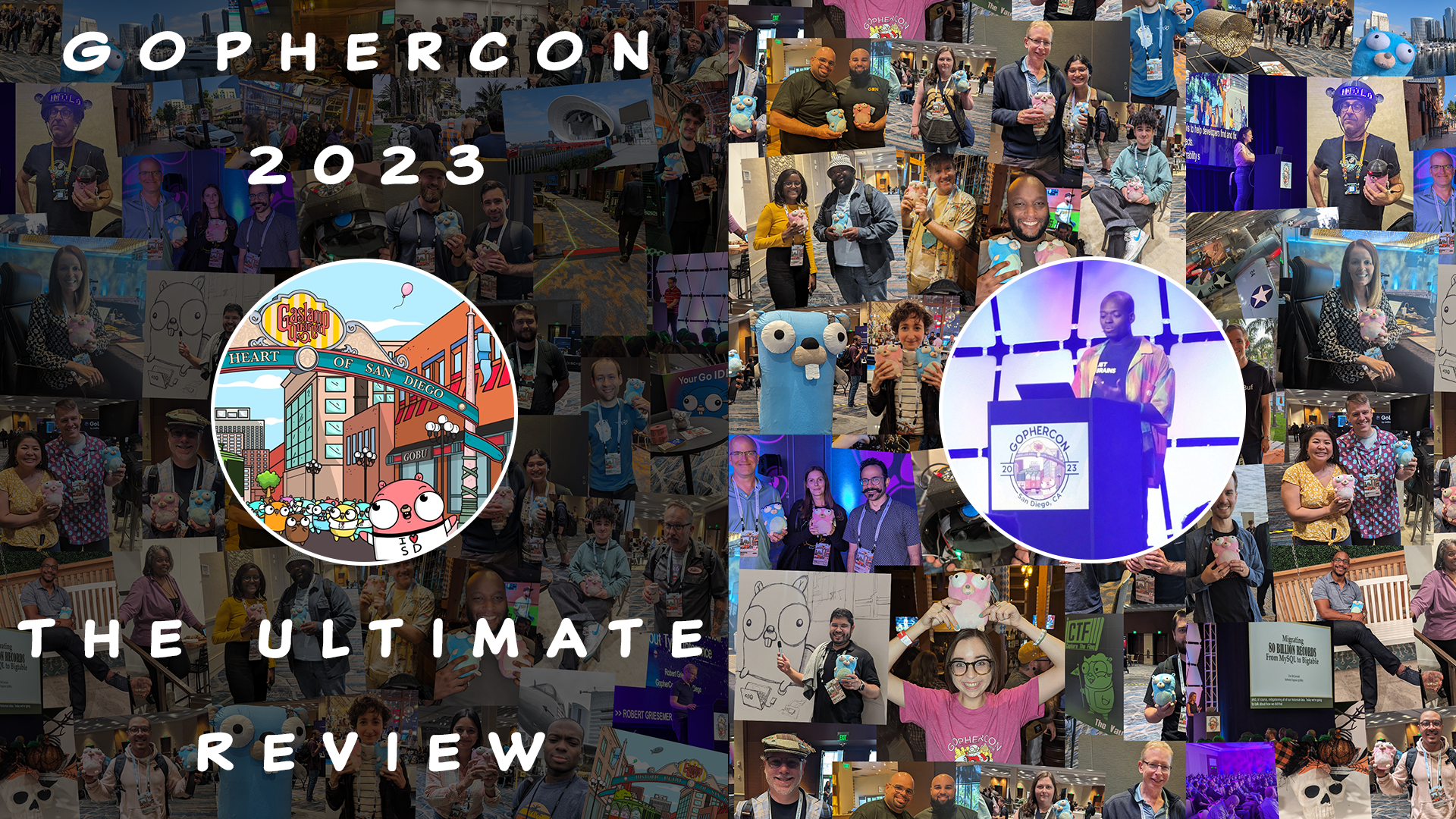 That's right peeps, We International Now! Last week was the ninth edition of GopherCon and took place in Sunny San Diego from the 25th-28th of September. It was my first time heading to the States in nearly two decades and it was one heck of a jam-packed time.
From workshops to community days and from presentations to meetups. At GopherCon there was something for everyone and for my first outing at this conference I was involved in a fair bit myself.
Remember to give a quick "Hello World!" to this lovely concurrency of gophers featured in this photo collage as you scroll past as I think it sums up the event fabulously. You'll be seeing them all again soon!
Teeny Tiny Preamble
We're going to try something different with this recap and use an ancient art known as 'headings' to split this document into 'sections'. So, what are these sections going to be? Well, I'm just about to list them.
The Secret Stars of The Show - Those that work behind the scenes to get GopherCon running as smoothly as it does.
The Spectacular Speakers - The speakers I met and what their talks were about.
The Glamourous Gophers of GopherCon - All the lovely interactions and encounters I had with Gophers around the conference
Final Thoughts - I have every faith you can figure this one out.
Alright strap in, grab some ice-cream (though you should probably do the second part first) and get ready for GopherCon 2023 - The Ultimate Review!
The Secret Stars of The Show
Heather Sullivan & The GopherCon Team
If you've never been to GopherCon before, it is immense. Not only in the scale of people, but in the scale of work it must take behind the scenes to run it so swimmingly. As the days rolled by I could feel my appreciation growing as I gradually understood just how much stuff was at this conference and how much effort it would take to organise it.
Speakers, Workshops, Meetups, Catering, AV, Booths, The Marketplace, The Custom Hotel keys and that's not even mentioning a quarter of it. Plus, I could sum up the whole speaker experience, from CFP acceptance to walking off the stage, as: 'I showed up, I did my thing and then went back to having fun', because that's really all it felt like.
As a speaker, there was never a moment where I felt lost, or didn't know what to do. It felt that the only issues that could occur at the conference would be of my own making. I'm sure this experience is one that echoes with all the speakers, workshops hosts, meetup organisers, sponsors and the hundreds and hundreds of guests.
GopherCon is an amazingly managed conference and Heather and her team did a fantastic job putting it all together. Heather also took the time to give me words of encouragement when I was feeling nervous before my talk. I remember taking her words to heart while sitting in the speaker's row and preparing for when I eventually took the stage.
To Heather and her Team as someone who was a speaker, booth person, meetup organiser and general attendee, thank you for making GopherCon such an incredible experience and I hope that the 10th anniversary next year goes even better than this one.
Angelica Hill & The GopherCon Committee
You may recognise Angelica from the GoTime Podcast, but did you know she's one of the key members of the GopherCon committee?
Angelica and the committee are volunteers from within the community that help to make GopherCon the place for the gophers. With their expertise they help with things such as speaker selection and 'general vibe maintenance', which is its official term.
This year I helped with the RainGo Alliance and United Go meetups and Angelica was one of my first points of contact and was absolutely stellar with the organisation.
Angelica was always flying around the conference making sure things were hunky-dory and checking in with other events and activities, as well as being one of the great hosts for the lightning talk sessions. Till we meet again, it was great to have finally met you in person.
The AV Crew
Before moving on to the next section, I do also want to shout out to the AV Crew. I didn't get an excellent picture, because they were a tad busy but what you're seeing here is a little runway that was backstage for speakers to do 'secret speaker stuff' an hour before their talks.

The person on the right was the stage manager, and they were professional to a T. I honestly felt like a celeb. The entire crew was top-notch.
As someone who sometimes struggles with forgetting to push the record button on their camera at my local meetup, managing all this stuff and at this scale, is just a teeniest, tiniest of bits beyond me, but it was a fascinating setup operated near flawlessly.
The Spectacular Speakers
Robert Griesemer & Akanksha Nichrelay - It's Time To Cook
At the 'Meet the Go Team' event I met Robert Griesemer, one of the original designers of the Go language, along with Akanksha, who is an avid Go enthusiast.
During our conversation I asked an extremely critical question. "Is it possible to cook a sandwich, or can a sandwich only be prepared?" I mean, you never really hear people say they're going to 'cook' a sandwich but sometimes you have to cook the ingredients that go into the sandwich, so does that mean the sandwich itself is cooked? And what of a grilled cheese, where does that fit in the equation?
Thankfully Akanksha saved us from that deadly thought experiment with much less controversial and more meaningful questions. I ended up finding out there's a secret something you can do with import statements and dots, but it's not a good idea and I definitely should try to forget it.
Robert had the closing keynote for the first day: Everything You Always Wanted to Know About Type Inference. To mini-quote, "Type inference is a powerful Go feature that simplifies the use of generic functions by allowing a user to omit explicit type arguments."
When a talk whips out the algebra you know it's one you're going to have to re-watch to fully comprehend and appreciate. The problems that were covered sounded curiously complex, and showcased the level of thought and care that is likely required when building a language such as Go.
It was fun meeting both of you and maybe next time we can discuss the differences between a ladder and a stepladder or whether they're actually the same thing.
Julie Qiu & Russ Cox - Is Hamilton Better Than Waitress?
I believe we all know the correct answer, but this 'heated' debate occupied the stage prior to this cheery little group shot.
If you're unfamiliar with either of these gophers: Russ (wearing the gopher shirt) was one of the original core authors of the Go project and now leads it. Julie has been part of the Go Team for 5-6 years and has made significant impacts over the years by leading projects such as https://go.dev/
Recently, Julie has been working on Vulnerability Management for Go which was covered in her closing keynote of the same name. To steal an analogy directly from Julie's talk, software nowadays is a bit like baking a cake.
You get all these ingredients from all these different places/packages all over the internet in order to craft the cake. Milk, sugar, baking powder, eggs, etc. However, we rarely analyse where we buy things from. Eggs are eggs, you get them from the GitHub store. …But what if those eggs are filled with lies?! That's why you need vulnerability management people!
Julie's explanation and breakdown of her and her team's efforts to introduce the ability to assess and highlight vulnerabilities in your packages efficiently was waaaay better than my summary so you should definitely give this keynote a look once it is available.
To my great shame, I missed Russ's opening keynote, Go Changes, as I was a little booth-bound, but have no fear, it's already added to my 'one to watch' list. Until the next time you two. Hamilton for lyfe btw.
Pablo Canseco - Looking Towards the Stars
Using Go to Track Satellites in the Sky, was a rather marvellous use of TinyGo. What started as a small side project, ultimately culminated in this delightful showcase.
A key moment was when Pablo showcased a demo of his project spinning around and locking onto a satellite hovering above (in space) and receiving public data from it. At least that's what I believe happened. I may have misconstrued two separate parts of the talk, but I'll have to double-check that on re-watch.
Thankfully, although there was a lot of maths at the start, Pablo said to ignore it, and so I did. I'm genuinely excited for the potential influx of Space related talks that could start coming through over the years as TinyGo adoption grows and its uses continue to expand.
Zoe McCormick - Migrating 80 Billion Records From MySQL to Bigtable
I thought I'd mix it up this time and put the talk title in the heading. As you might imagine, migrating 80 billion records from one data source to another is not an easy feat and sounds like it would take forever. Over 150+ days in fact, by Zoe and her team's first estimate.
Maybe there was an easier way? A way that began with C and rhymed with 'urrency'. But like, not that one. While I leave you to figure out this Rubix's cube of a puzzle, I will say Zoe and her team eventually got the migration down to 3 days, which was viewed as a much more reasonable timeframe.
It was a timeframe that allowed for issues or errors that could happen during the migration, to happen. As now with all the improvements it wouldn't take a half-year to fix. If you're curious about this real-life case study of the application and uses of a word that rhymes with 'urrency', this talk would be a good place to look.
Konrad Reiche - Building a Highly Concurrent Cache in Go
Sadly, I could only catch a small part of Konrad's talk, so I can't provide too many insights. Though if you've ever used Reddit, you can likely thank Konrad and his team for the speed at which it displays content to you.
I took this photo right after Konrad caught me moments before I planned to sneak out of the party on the last day of the conference, earlier than most. We ended up talking about meetups as Konrad was interested in restarting one back in his home-base, similar to what I did for London Gophers. To which I wish him good luck and I'd be totally open to help if needed.
In a random tidbit, I believe I met Konrad back at GopherCon UK in 2021 or some other year. I remember thinking "I didn't know Reddit uses Go", but I guess that's the power of the language. It really can show up anywhere and everywhere. Much like gophers, if they were pigeons.
Johan Brandhorst-Satzkorn - Avengers, WebAssemble!
Johan was one of the lightning speakers during the second day of the conference. His talk: Go Support for WASI/Wasm, covered how WebAssembly (Wasm) is apparently finding some traction in the backend deployment space and how in Go 1.21, Johan and his cohorts added WASI (WebAssembly System Interface) support.
Seeing Johan again was a mini magic moment. Johan is actually one of the key people within the lore and was a regular at London Gophers back when he used to live in the UK.
In fact, he was one of the first Go speakers I ever saw at the first London Gophers meetup I ever went to back in 2018. Can you guess what his talk title was back then? "Get Going With WebAssembly", which was about a new WebAssembly port in Go 1.11.
Johan also helped me with getting a job during the pandemic, so it was super cool to see him again so I could thank him in person!
Ron Evans - GopherBot Prime
If a futuristic cyborg AI were ever to terminate me, I think I could accept it if it had cute retractable ears. If you've ever been to a conference where Ron Evans is taking part, you know he is an absolute star.
With so many goodies and gizmos all built using TinyGo, and talks and practical demonstrations across a countless number of conferences. I believe Ron has been responsible for igniting so many dreams and ideas of gophers around the world who want to enter and experiment within the TinyGo space.
This time Ron headed a Community Day - Return of the TinyGo Hardware Hack Session! Plus, he took part in the lighting talk sessions with - A Small Update About TinyGo - GopherCon 2023 Edition, which covered all the wonderful ways TinyGo is being adopted and used around the world.
Plus, do you see that cool badge Ron is wearing? He gave away dozens upon dozens of these at the conference and you can program and edit what's on them yourself using TinyGo. I now have one of my own that is currently sitting pretty on my bookshelf after surviving the flights back.
Jess McClintock, Arman Masoumi & Jeremy Fleitz - My Partners In Crime
On Tuesday, speakers could do a small rehearsal of their talks and test their setups. It was there I met these three gophers. Jess, Arman and Jeremy (from left to right, starting in the middle) and we all shared the joys of mini-panicking if our setups didn't work.
Unfortunately, I couldn't catch their talks, but after meeting and thoroughly enjoying their company you know they're already on the 'ones to watch' list. I'll leave the topics here in case you want to note any down.
Jess McClintock's - Understanding Supply Chain Threats with Static Analysis - With the ever-increasing threat of supply chain attacks and vulnerabilities, how can we protect ourselves? How can we keep our cyber secure? Well, Jess definitely knows more than most about this kind of stuff, so I trust she can help you with finding the answer.
Arman Masoumi's - Building Resiliency and Recovery in Go gRPC Streaming Applications - Do you have an operationally unpredictable environment, where you wish to have reliable and resilient gRPC streaming? I'm tempted to say that's everywhere, which means everyone should look at this talk!
Jeremy Fleitz's - Special When Lit: Using Go to Bring a Pinball Machine Back to Life! - Back at the start of Go, could you have ever predicted that it could resurrect old physical hardware such as pinball machines? No? Well with TinyGo it's more likely than you think.
The Glamourous Gophers of GopherCon
Wilken Rivera and Matthew Sanabria - Focus on Today, Tomorrow is Tomorrow
Wilken was one of my co-conspirators for The United Go Meetup. I ended up meeting him in-person for the first time, along with his friend Matthew Sanabria during breakfast early on at the conference where they invited me over to sit with them. I used this time to ask them about the nuances of American tipping culture as I've never had to sign so many receipts in my life.
Wilken is a bastion of positivity and was incredibly reassuring during the totally safe walk over to the meetup and was a key part to its success. You'll notice both Wilken and Matthew are wearing cute GDN t-shirts (That Wilken made). If you're unaware, that stands for the Go Developer Network, which is a part of GoBridge, of which both Wilken and Matthew are on the leadership team.
Dmitri Shuralyov - Welcome To The Room, Gopher
On Tuesday there were not only workshops but also community days. One session was: Meet the Go Team, which is where I met Dmitri. Oddly enough, on this particular Tuesday, for whatever reason, I didn't feel confident in myself and wasn't sure about joining in on the session.
However, Dmitri noticed me hovering at the entrance and walked over to say hello. It was an especially kind gesture and made me feel welcome in the room.
We ended up chatting for a while and I discovered Dmitri has been involved in Go for over 10 years and actually has an incredibly inspiring tale. Prior to joining the Go Team he was an avid open source contributor to the language and after a series of fortunate events now works on the Go Team. Dmitri is literally a dream in action.
It was a pleasure to have met you Dmitri and thank you so much for reigniting my confidence on that day. I really appreciated it!
Derek Parker & David Benolt - Not Wearing Red Hats
If you've been following the lore, I met Derek (left) back at GopherCon Israel. He was one of the first people I harassed into holding Gophers for photographs. Ah, the memories.
This means it was very easy to convince Derek's co-worker, David (right), to join in the fun for this picture. Now they were both busy bees at this conference, what with workshops and stuff, so I couldn't keep them for long, but I kept them long enough to unlock some new and secret knowledge that I didn't have before. That's right, they both work at Red Hat, even though the evidence is clearly contradictory.
Kris Brandow - Conference Pals
You may not recognise this face, but you sure as heck should recognise the voice. Kris Brandow has been blessing your ears on the GoTime Podcast for around 3 years.
We first met properly at The RainGo Alliance Meetup and again at The United Go Meetup where I mainly complained about how tired I was, because I could not kick the habit of waking up at 2am every single day I was at GopherCon. Kris was very adept at covering the talking for me, when I mostly could not.
It was splendid to meet a kindred spirit. I promise Kris, that if you're ever down in London Town, I will give you the same courtesy and allow you to complain x10 as much if necessary. See you on the airwaves!
Maceo Thompson - Have You Played Baldur's Gate 3?
No seriously, have you? Maceo was another 'conference pal' who attended both The RainGo Alliance Meetup and The United Go Meetup. They were our next-door neighbours at the Google booth as Maceo here is another member of the Go team, and a fresh-faced one at that.
Maceo started in the Go Team around about last year, which is almost the same time that I started being a Developer Advocate. You know the article is going well, when all your doing is stating facts.
So what does Baldur's Gate 3 have to do with any of this? Well, Maceo had the privilege of overhearing me ask a fair number of people if they'd played the game. I then tried to explain the rules to him and the others who were there at the time via means of live performance and demonstration.
Unfortunately, they all died of cringe. So, I guess this section is more of an 'in memoriam'. See you on the other side, conference pal.
Nick Irvine - Actually Play's Baldur's Gate 3 🐉
For a conference filled with software engineers, I'm surprised it took me so long to find someone who had actually played Baldur's Gate 3. Thankfully Nick here saved me from the perils of normal conversation and I could finally talk about my favourite rogue, Astarion 💕 and my custom character, Averus. (If you must know I'm a human warlock, because I like to experience fantasy through an un-fantastical lens). (And yes, I named her after the main character in my fictional book, sue me)
I met Nick at The RainGo Alliance meetup and on the last morning where he caught me leaving the USS Midway Museum and I caught him heading to the maritime museum. Great minds think alike, it's why he's playing Baldur's Gate 3.
Bill Kennedy - The Ultimate Gopher
Another legend of Go scene, Bill Kennedy is a teacher extraordinaire. Workshops, training, tutorials, courses, blog posts, videos and travelling all over the world to hundreds of conferences. As someone who was shattered for an entire week after one flight to America I honestly don't know how Bill does it.
We've actually met a couple times this year, though I believe the first time could have been at the London Gophers Summer Party that took place in June. He was swinging by London at the time and popped along for a visit so he's no stranger to the plushy gopher ambush.
I have to say that as a meetup organiser; I am incredibly grateful to Bill and the rest of the GoBridge Leadership Team, (some of whom are in this article) as the support they give to communities around the world really makes it feel that it's possible to set up a Go community anywhere you are. Thank you!
Tembong Fonji & Margaret Kinyanjui - Thanks for the Support
I snapped this shot of Tembong (right) and Margaret (left) after my talk as they'd offered nothing but praise about it, which was a much appreciated boost. Tembong even took a few snaps of me on stage, and his photo is the one I am using for the thumbnail of this article.
I actually met Tembong a day or so earlier, where he came over to me and introduced himself as he recognised me from the conference program. During this conversation he offered his support and said that he'd be looking forward to seeing my talk, which is one of those things that is both emboldening, but also worrying as I hoped I wouldn't let him down lol.
Tembong hails from Cameroon, which I embarrassingly had to ask the location of (Central Africa), but in my defence, as a Londoner (and I said this at the time) we literally know nothing beyond the Thames. True story, I thought San Diego was near Chicago, I even planned to visit a friend (It isn't btw).
Manpreet Kaur - Tokyo Dreamin'
Hailing from Tokyo, Manpreet reached out to me after my presentation and we ended up chatting about how our travel times were equally gruelling. To further destroy any geographic credibility I never had, I always figured Japan was closer to the US than the UK, but no, it's around similar distances, give or take a few hours.
We chatted in further depth about meetup organisation and creation. Manpreet mentioned how she could adapt some ideas I shared to maybe kick off a Meetup in the Tokyo region. It sounds like a brilliant idea and I'm excited to see how things turn out in the future. Perhaps I could visit sometime.
Ed Sutherlin - This is The Guy
Here is somebody with a truly electric personality. During one day, I'm pretty sure Ed bounced between several evening events and could still stay upbeat and active. I only went to one, and I was already crashing out in the hotel room when I got back.
We didn't have time to properly-properly chat, so I can't share the deep intricate details of Ed's existential existence, but I'm sure it involves having a good time, looking towards the future and living life well. Catch you on the flip Ed!
Erick Zelaya - The Not-So Unknown Artist
This time round, the JetBrains booth had two walls with white backgrounds that attendees could draw on. After one of my jaunts upstairs, I came back to this grand and beautiful rendition of a Gopher typing on a keyboard. But! There was no artist in sight…
I made it my mission then and there to find this mysterious artist. This 'Banksy' of Go. Turns out the criminally talented do indeed return to the scene of crime and Erick here was the culprit.
However his crimes didn't stop here. Erick is one of two artists (the other being Ashley Willis) who handle most of the amazing artwork that is all over GopherCon. He's been doing it for many years now and his art style has become a staple within the community. It honestly inspired me to pick up the pen again.
Derrick Laird - Go West, Life is Peaceful There
The Organiser of Go West Conf and many other things. Derrick has a passion for community building and has gone a step beyond and entered the realm of conference organisation. He and I had a nice in-depth chat about meetup organisation. What's a good way to encourage newer speakers? What formats do attendees like?
During our chat I had the honour of showing off London Gopher's sacred colour-coded spreadsheet. Something I was surprisingly thrilled to do. Perhaps it's one of those things that comes with age.
Eleanor Deal - Go Cardiff, Or Go Home
I met Eleanor on the last day of the conference, just after my presentation. It was fun to catch up with a fellow organiser from the little isle that we call home. We discussed some struggles that meetups around the world have been facing post-pandemmy and the difficulties that can come with kicking off the dust and restarting things anew.
Eleanor suggested it would be good to share some ideas that were within my talk as other communities may benefit from them, which I'm definitely going to do. As Cardiff is relatively close to London, compared to California, I look forward to bumping into Eleanor again, though maybe closer to home this time.
Paul Balough - It's My Fault He's Not Holding a Gopher
Organiser of the Saint Louis Go Meetup, Paul was an entertaining person to chat to. He helped to organise - Meetup Organizers (past, present, and future) Unite! We ended up chatting about community and community programs and he's currently stationed at Grafana Labs.
I broke convention here, as sadly a can of an unspecified beverage is not a cute and fluffy gopher. Maybe if you squint really really hard, it could still look like a can. I just don't know what the point of doing that would be.
Connor Mahony - A Buf Guy
If you've not heard of Buf, they're the first end-to-end platform for Protobuf, gRPC, and Kafka and were our neighbours at this conference. If you check the photo collage, near the bottom, notice that there's a giant 6-7ft~ gopher.
Well, that belongs to Buf and was hand-crafted by one of the team's family members as a present. Which definitely puts my standard £5 M&S gift card to shame.
Connor and I had a brief chat on our booth's sofa, during a break at the conference. Which was very much needed, as a nice little down-to-earth chinwag can do wonders for restoring the social battery.
Alice Merrick - Surely UX Should Be Called UE
So, in case you're new to bizz. UX stands for 'User Experience' and Alex makes up a key part of the User Experience Research Team at Google. We met briefly at GopherCon EU, but this time I was ready and waiting, two gophers locked and loaded.
Although our discussion was once again short, we got to chat a bit about what goes into creating the Go Developer Survey and some of the cool highlights from it. What parts of Go do people see as the best bits and what parts do people see as the worst bits? Well, you will not find it in this article. Go give the survey a read! But like, after you're done here obviously.
Johnny Boursiquot - Try To Tell A Story
Our third and final member of this article's GoTime podcast trio. Johnny was another gopher in arms that helped with the organisation of The United Go Meetup and was a host of GopherCon, as well as being a program chair. I hear and heard that there were a few 'Dad Jokes' that were set loose upon the audience when he was on stage.
We didn't get to chat too much, but after this photograph I asked for some advice as I was feeling nervous about my talk the next day. "Try to tell a story" is a paraphrased version of the advice Johnny gave to me.
In essence, the subject is less important than the way it's told. If you can craft a tale that can make your presentation personable, relatable and interesting to listen to, it can do wonders to win over an audience and can really improve the impact of your message.
You Made It - Final Thoughts
Congratulations reader, you made it. You will not believe me but, I genuinely had to cut some things from this article because of its length. That's just how much stuff happened at this conference.
In summary, if you couldn't tell already, GopherCon was an unbelievable experience. I believe it's one of the most involved I've been with a conference this year, and from all angles whether you're a speaker, a sponsor or an attendee, as said previously, the team immaculately put it together. Here's a quick shot of me in front of the Top Gun jet debating whether or not I should smile.
If you're curious about my talk, I titled it - The Blueprints to Building Your Own Badass Community and I suppose upon reflection and having chatted to all these people who contribute, collaborate and continue to move Go and its community forward to greater heights, I wasn't exactly lacking for inspiration when I put the talk together.
The slides are currently available online, but they lack speaker notes so I'm going to spend some time writing up the information within them and sharing some things that London Gophers does as well, to help give back to the community that has given so much to me.
Anyway, um, I think that's it for now. GGs and all that. To all readers who made it this far, thank you for taking the time to read this article and I hope you have a gopher-rific day!
Bye bye for now!
If you're interested in reading future articles here are the socials: