Go: Around the World - France, Nice - Inspirations, TinyGo and Hens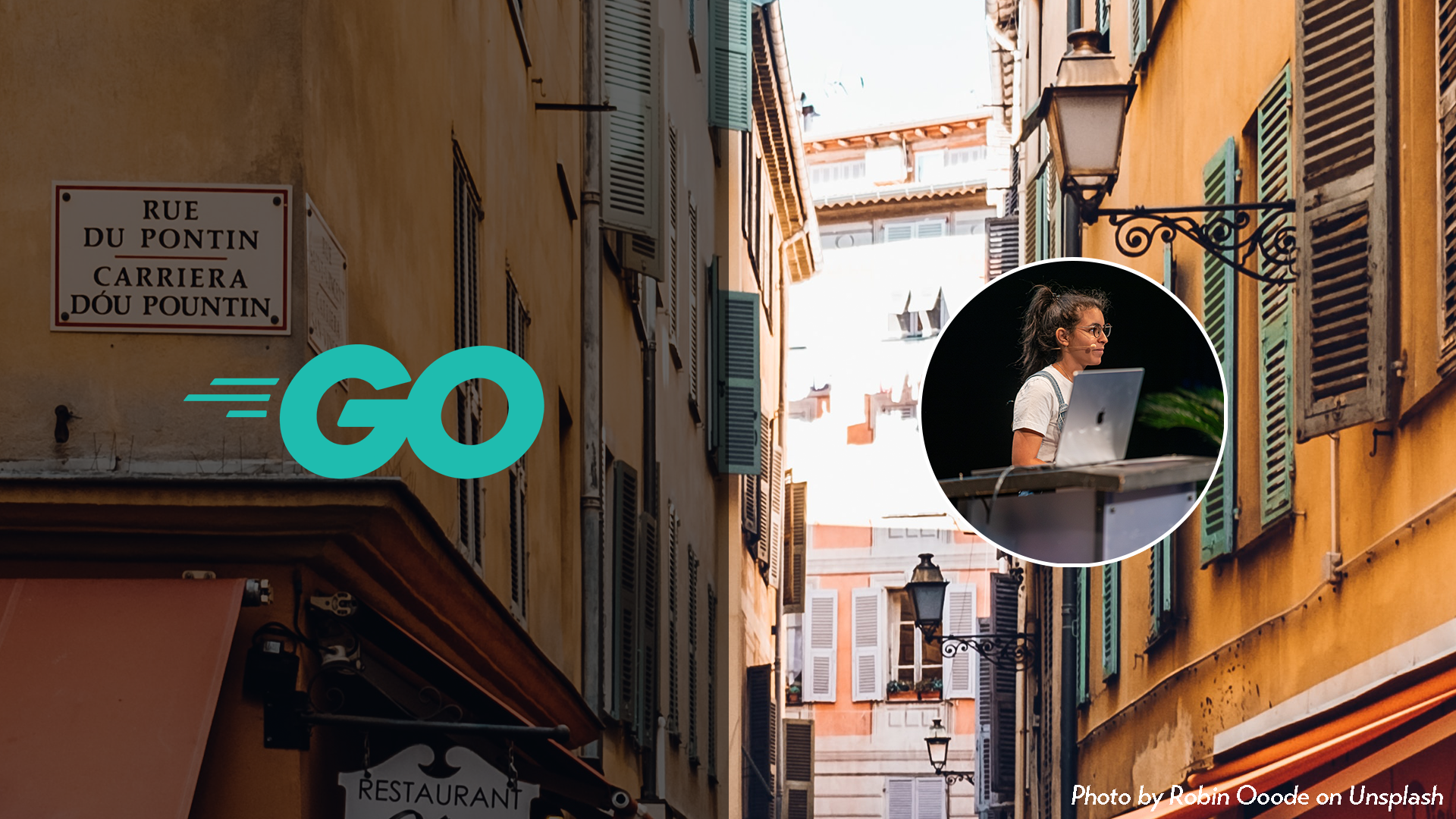 Bonjour! Welcome to the 3rd article in the Go: Around The World series, where I look at the many gophers, places and projects that make up this wondrous world. Today we're going to be visiting France! C'est parti!!
Our special guest today is: Donia Chaiehloudj (Mastodon, Twitter, LinkedIn). A Professional Go Developer, Community Organiser and Ambassador for Diversity (WHAT06, GDG Sophia-Antipolis)
Donia recently matched this article's namesake and went 'Around The World' as an international speaker advocating for TinyGo, IoT (The Internet of Things) and the cuteness of her two hens 🐔🐔!
So, What Did We Talk About?
Originally, I'd only planned to focus on TinyGo and Donia's, now world-famous talk, TinyGo: Getting The Upper Hen. However, during our chat I discovered Donia had built several pivotal pillars in her life that formed a solid foundation of support which were too important not to share, as what is a journey if not all the steps?
Cycles of Inspiration
While I was researching Building Communities - Women in Cloud Native, I discovered this:
My Top 5 Of Women Motivational Speakers In Cloud Native Development, written by Donia in November 2021. Little did I know this article is what Donia would describe as her 'watershed' moment - an important moment that changes the direction of a person's history.
Seeing these speakers and advocates talking about all these topics Donia had felt she wasn't ready for, motivated her to dive deeper into the space. It rekindled an old desire to build and take part in communities, which had been a large part of her university life.
Donia joined communities such as the GDG (Google Developers Group) where she ended up leading a new chapter (GDG Sophia-Antipolis), and the Women Developers Academy, a month-long course that 'will equip participants with the skills, resources and support they need to become leaders in the industry through public speaking and other community contributions.'
With the skills and connections developed within these communities, Donia gave her first ever talk at Women Tech Makers Berlin: Honey, I Shrunk The Gophers and started submitting TinyGo: Getting The Upper Hen to GopherCon EU, GoWestConf, Gophercon and GopherCon UK, among many more.
Which ultimately led to a friend of mine telling me about Donia during the pre-conference drinks at GopherCon UK and how they felt inspired to create a talk of their own, and recommended that I talk to Donia about TinyGo, as I needed help to put together this article.
That's what I mean by Cycles of Inspiration. I assume, at the time of writing, the 5 women featured in Donia's original article were not aware of who she was, but their actions inspired Donia to stand alongside them and unknowingly become an inspiration to someone else, who may end up doing the same to another.
If you're reading this and you know of anyone who could benefit from some groups mentioned above, please do share it with them!
IOT Barriers?
One of the large hurdles to entering the IoT space is not only the technical aspects, but the physical ones. Not only do you need to buy equipment, you sometimes need to get your hands dirty too. What if you make a mistake and buy the wrong microcontroller? Or break it in the first few seconds? How do you know what other equipment you need?
I asked Donia how someone with this level of apprehension could go about getting over their fears and getting involved in this space? She empathized with these thoughts and was quick to point out that she didn't start looking into TinyGo with zero background knowledge in the area. Her degree was in computer science and electronics, so there was a familiarity with the physical side of IoT.
Donia suggested a good first step when you get your first microcontroller kit (e.g. Arduino Nano or Raspberry PI), is to follow the starter tutorials and projects that go over things from scratch. There are step-by-step visual guides on YouTube as well. Watching someone go through all the steps could help you learn and understand the written tutorials more effectively.
The way I understand it is that it's better to treat it like cooking, where on your first time through it's less dangerous to follow and execute a recipe instead of guessing how to flambé a salmon.
If you don't want to invest any money in buying a Raspberry Pi or other options, there are always 'virtual boards' such as the TinyGo PlayGround where you can test out TinyGo and create some programs with no physical board. A try before you buy, if you will.
However, there is one even more effective strategy for getting past these barriers, one Donia would describe as the most critical to her success with TinyGo, the community itself.
Community, Culture and Contribution
To Donia, the TinyGo community is one of the more welcoming communities she has been a part of. It was a place where she could ask the 'dumbest' questions, as there they weren't 'dumb', they were just questions.
TinyGo has an active and involved community where the people working on it are genuinely interested in the project and understand the importance of accessibility and encouragement. Before embarking on her journey into TinyGo, Donia felt a bit intimidated, but these fears evaporated almost immediately.
Right off the bat, the answers were straightforward, engaged and lovely, there was no contempt. And where the questions were regarding an issue that was already solved, community members sometimes linked her to the GitHub so she could see the history of the problem and read up on any information that may have already been covered.
Members from the community even supported Donia with her talks by reviewing her slides and offering advice. Donia shared a Twitter thread she created with TinyGo resources and accounts to follow and, simply scrolling through it, you can see the levels of content and care that permeate throughout the community.
Merci Beaucoup, Donia! Twas A Bon Voyage!
2022 sounds like it was a big year for Donia and it was an absolute pleasure talking with her! Unfortunately, I completely forgot to ask about France.
Now hold your horses! There's one last awesome thing I'd like to shout out before we reach the end: Donia's new book - Learn Go with Pocket-Sized Projects. Co-authored with two of her close friends, the first four chapters are now out! If you're into experimentation, play and perhaps training your fun-damentals, this could be a place to start!
Donia described the undertaking as "one of the biggest projects of her life". Judging from what I've seen of her journey, I'd want to tack on "so far" to the end of that.
I hope you all enjoyed this little slice of the world. For me I learned about the importance of inspiration and representation, some ways to overcome the difficulties of getting into TinyGo and how a good culture and community can help with an Open Source Project's growth and adoption.
Well, that's all for now, if you enjoyed this article share it with others! If you know of anyone who I could feature in a future article, let me know!
If you want to read about 2022 from Donia's own perspective, check out her retrospective: 2022: Time to Harvest
Follow Donia Chaiehloudj on these platforms: Mastodon, Twitter, LinkedIn
Find me on these platforms: Mastodon, LinkedIn
Thank you for reading and have a lovely day!
Resources and Links
Donia's Presentations
Donia's Book
TinyGo
Communities